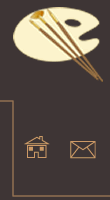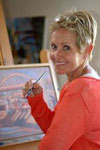 About the Artist
© 2014 by Carole Garland. All rights reserved.
Carole Garland, born and raised in Chicago, graduated from Knox College, Galesburg, Ill., She studied figure drawing and oil painting at the Art Institute of Chicago and the University of the Americas, Mexico City. After moving to Los Angeles she studied privately with Keith Finch, Venice.
Concurrent to her art pursuits, Garland worked as a magazine editor, publicist, director's assistant, book editor and sales executive.
After a brief hiatus from painting, she looked to the outdoors for inspiration and began plein air watercolor studies with Don Blaisdell, UCLA.
In 2003, she returned to oils and painted outdoors and in the studio, inspired by both the wildness of nature in the Santa Monica Mountains and the urban distinction of Los Angeles. The 2015 landscape exhibit includes paintings reflecting her travels.